Elfsys Grow Power Strip
The Elfsys Grow Power Strip is a smart power outlet specifically tailored for indoor growing. It features 61 individually-controllable AC sockets and 3 USB-A ports that can be controlled as a group, all of which can be managed via Wi-Fi or Bluetooth using mobile apps. Additionally, It includes power monitoring capabilities and protection against electrical surge, overload, and fire.
Designed with the harshest hydroponic condition in mind, the Elfsys Grow Power Strip provides several key benefits compared to standard smart power outlets:
Its PCB moisture resistance technology prevents the circuit board from rusting in a humid greenhouse environment;
Its extended cable length allows for more convenient placement of your equipment.
When combined with the Elfsys Grow Cloud App, the Elfsys Grow Power Strip allows you to easily add smart automation to your indoor growing setup. Additionally, for general appliances, it may also be used with Smart Life or Tuya Smart.
The specifications of the Elfsys Grow Power Strip are as follows:
North America Version
China / Australasia Version
Socket standard: Type A/B, mainly used in North and Central America
Power plug standard: Type B
Input power: 110~250V AC, 50/60Hz
Output power: 15A max at 125V (1875W), 10A max at 250V (2500W)
USB output power: 5V DC, 3A each & total max
Control mode: 6 AC (individually-controlled), 3 USB-A DC (group-controlled)
Wi-Fi standard: 2.4GHz 802.11.b/g/n
Bluetooth standard: 5.1, BLE
Product size: 8.9 x 3.5 x 1.2in
Cable length: 7.5ft
Net weight: 17.75oz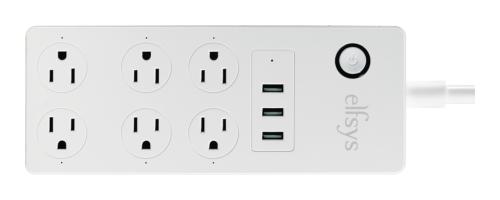 Socket standard: Type A/I, mainly used in China, Australia, New Zealand, Papua New Guinea & Argentina
Power plug standard: Type I
Input power: 110~250V AC, 50/60Hz
Output power: 10A max at 250V (2500W)
USB output power: 5V DC, 3A each & total max
Control mode: 6 AC (5 individually controllable, 1 always-on), 3 USB-A DC (group-controlled)
Wi-Fi standard: 2.4GHz 802.11.b/g/n
Bluetooth standard: 5.1, BLE
Product size: 22.6 x 8.5 x 3.0cm
Cable length: 2.3m
Net weight: 590g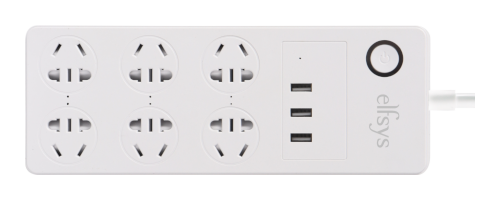 ---
For the North America version. The China / Australasia version has 5 individually-controllable AC sockets and 1 always-on socket.↩